Cornwall rail network to get £146m investment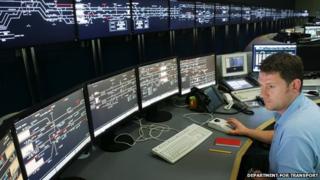 Just over £146m will be spent upgrading the South West rail network including an overhaul of sleeper trains.
Prime Minister David Cameron said the £146.6m was a "crucial part of a long-term economic plan to back business".
The upgrades will see the sleeper trains linking London with Devon and Cornwall upgraded, as well as signalling improvements west of Totnes.
However, up to 40 signalling posts may be moved out of Cornwall as result of the work, Network Rail confirmed.
The investment includes £9m of funding from the Department for Transport, £29.6m from Cornwall Council and the Cornwall and Isles of Scilly Local Enterprise Partnership, £103.5m from Network Rail and £4.5m from train operator First Great Western.
'Immeasurable difference'
Tim Jones from the Devon and Cornwall Business Council said the work would improve track speeds.
He said it would make an "immeasurable difference" and he also hoped it would pave the way for the introduction of half-hourly services on the Cornish mainline.
As part of the proposals, the interiors of the Night Riviera Sleeper trains, which run between Penzance and London, will be completely overhauled.
Analysis: Neil Gallacher, BBC South West business correspondent
The bigger story, I think, is to do with the elderly signalling that we've got now, which is one of the reasons we don't have as many trains as we want.
It's currently just not safe to run the number of trains that we need.
But a big programme of signalling improvements is going to start, five years earlier than planned.
That means faster journeys between Penzance and Totnes, and it also paves the way potentially for half-hour service on the Cornish main line.
Cornwall's Long Rock train maintenance site at Penzance is also due to be expanded to maintain sleeper rolling stock.
However, about 40 jobs will be "displaced" due to a new signalling system, a spokesman from track owner Network Rail said.
Mike Gallop, from Network Rail, said tracks from Totnes to Penzance would see signals changed to replace some equipment which "dates back to the 1890s", and that signal control would be moved to Didcot, Oxfordshire.
He said a consultation was under way and that 12 other posts were due to be created.
He said: "We're seeing if displaced people can be moved elsewhere within the company, and there may be some natural wastage of signallers."
Nearly seven million passengers use the rail network in Cornwall every year, with passenger numbers growing twice as fast as the national average.
Bert Biscoe, Cornwall Council's cabinet member for transportation, said enhancing main line signalling was as important as improving the A30 and building the Tamar Bridge in keeping the county connected.