Retail contracts for Truro City football ground signed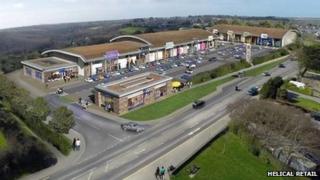 Contracts have been signed to turn Truro City's ground into a retail park, the club has announced.
The deal over the Treyew Road site has been struck between the football club, current ground owner JoJo Investco Limited and developer Helical Retail.
Helical believes the park, with furnishing and non-food businesses, could bring in about £16m and 150 jobs to the local economy.
The firm also has to develop a new club ground before the site is vacated.
Club chairman Pete Masters said: "This agreement is the result of a substantial amount of work and co-operation between the parties over many months."
Under the terms of the agreement, JoJo Investco Limited and Helical were also contracted "to make significant monthly sponsorship payments to Truro City", he added.
This is a critical moment for the club," he said.
"We are keen to develop much needed footballing facilities, including both ladies and youth football."
Sites identified for the new ground include being part of plans for the Stadium for Cornwall, which development company Inox wants to build at Langarth Farm near Truro.
Land has also been identified at Nansavallan Farm in Killiow, near Truro.
Plans for the retail park are on show on 11 and 12 July at the football club.
Philip King of Helical said: "The scheme will feature a number of large units, non-food retailers - we've already had interest from furniture, electrical, home store kitchen and fashion retailers who are keenly looking for space in the area.
"This is a great opportunity to bring further trade and related jobs to Truro."