Fly-tipping fear over new recycling charges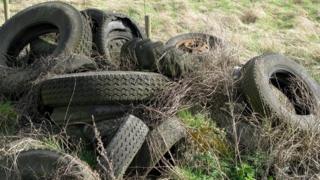 Plans for new charges for previously free items at recycling centres in Cornwall could lead to an increase in fly-tipping, a councillor has warned.
Cornwall Council said the charges were "targeted to deliver approximately £485,000 in savings".
But Cllr Mark Kaczmarek believes it to be the "worst thought out charging policy in recent times".
Bert Biscoe, cabinet member for transport and waste, said other authorities apply "charges similarly".
Mr Kaczmarek, councillor for St Day, Gwennap and Carharrack, said: "There will be an increase in fly-tipping. I think the people who have thought this up are idiots."
He added that fly-tipping cost ratepayers £300,000 a year and he anticipated it would increase by a third when the charges come in.
Mr Biscoe said: "We have had a lot of discussion with councils in Devon. They had a fly-tipping increase but it has now dropped.
"The majority of things fly-tipped in Cornwall would be accepted for nothing at household waste centres."
Mr Biscoe added: "The charges may not be welcomed, but cuts in our funding mean we have to look at ways to reduce our costs where possible."
In February the council approved budget cuts of more than £40m and a council tax rise of nearly 2%.
The council said the new charges would begin on 1 September.