Truro Cathedral repair cash welcomed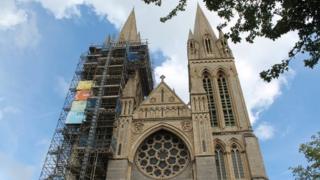 Staff at Truro Cathedral have welcomed a grant to repair its vaulted arches.
The £50,000 for the work from the World War 1 Centenary Repairs Fund was announced earlier this month.
The arches were damaged in gale force winds during storms in February. Pieces of stone fell down on to the High Cross plaza below, resulting in some of it being sealed off.
Operations manager Ellen McKessock said the cathedral was "very grateful" for the money.
She said: "We don't really have the funds for all of the repairs. This will go a long way towards paying for it."
The damage included one mullion falling from an arch on the building's west side during the bad weather earlier this year, causing debris to land on the cathedral shop roof.