Eucharist celebrated in Cornish at Truro Cathedral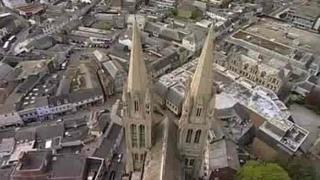 The Eucharist has been celebrated in Cornish at Truro Cathedral for the first time in more than 30 years.
The only other time it has been performed in the language was back in the early 1980s, said the Chaplain to the Gorsedd, Jane Kneebone.
She said a second Cornish service will take place in October with the plan to have more in future years.
With the growth of the language the cathedral wanted to "expand services", she added.
New hymns are also being written in the language.
In March, the government announced a £120,000 funding project to help "keep the Cornish language alive".
The service took place on Monday.