Dozens attend Godrevy beach sewage protest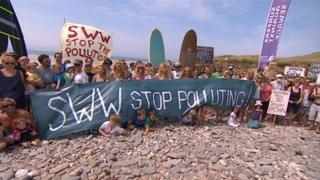 More than 150 campaigners have protested against sewage being discharged into the sea.
Campaigners claim there have been three sewage discharges at Godrevy, in Cornwall, in a two-week period in June and July, including one which let to a surfing competition being postponed.
South West Water (SWW) said the outlet at Godrevy was an emergency overflow used in heavy rain and protected homes.
However, protesters said that was unacceptable.
Karin Howey, who organised the protest, said: "We shouldn't be swimming amongst sewage. It's not good for the tourism or our health.
"We pay the highest water rates in the country and I think something should be done."
'Jewel in the crown'
Hugo Tagholm, from Surfers Against Sewage, said it was "unacceptable" and there had been "clear public outrage".
"This is a the jewel in the crown of Cornish beaches and we're campaigning hard to seek a solution."
A SWW spokesperson said: "Combined Sewer Overflows (CSOs) protect homes from sewer flooding during storms and they all operate under an Environment Agency permit."
The company said Godrevy Beach had been rated "excellent" for bathing water quality for the past 13 years and was predicted to do so again this year, which it said was "based on independent sampling by the Environment Agency".
The spokesperson added: "Replacing our network of CSOs would cost billions of pounds and could double customers' bills.
"We all have a role to play in keeping our sewers clear of blockages and cutting the amount of surface water that goes into the sewers and we are actively tackling these issues."