Glastonbury tents sold for charity in Cornwall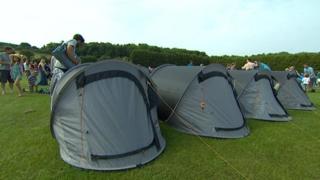 Tents and camping equipment left at Glastonbury Festival and collected by firefighters have been sold for charity.
Dozens of people attended the event at Hayle Rugby Ground in Cornwall.
Nine firefighters collected the camping gear from the festival and brought it back to the county.
People paid donations for the tents, camping chairs and boots, which raised more than £3,000 for the Fire Fighters Charity.
About 200 tents, 150 camping chairs, 50 blow-up mattresses, 50 pairs of boots, 30 sleeping mats and 30 sleeping bags were being sold.
The firefighters had an agreement with the festival organisers to collect the leftovers.
Glen Beale, from Cornwall Fire and Rescue Service, said: "During the past three weeks we've been cleaning the tents.
"We opened the gates at 10:00 BST but we had people here from 06:00."