Cornwall's health system labelled 'high risk'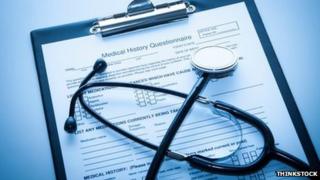 Cornwall's health system has been labelled "high risk" by a group of bodies which oversee the NHS.
It is because the Royal Cornwall Hospital Trust (RCHT) failed to meet national accident and emergency targets for dealing with patients.
NHS monitors said the RCHT and clinical commissioning group NHS Kernow must improve.
NHS Kernow said it had been allocated £3.7m by the NHS to improve the situation.
'Not unique'
NHS England has an operational standard of 95% for patients being seen and discharged within four hours.
The RCHT only met this target during one month last year.
NHS England and the NHS Trust Development Authority said the RCHT and NHS Kernow must prove they have got plans to improve.
NHS Kernow, which pays for hospital health services, said the county was "not unique in being identified as a high-risk health system and this is based purely on waiting times in the county's only emergency department".
It said it was looking at options including offering more doctor cover in minor injury units, evening X-ray appointments and having more emergency care practitioners in the ambulance service.