Salmon fishing returns to Devon and Cornwall rivers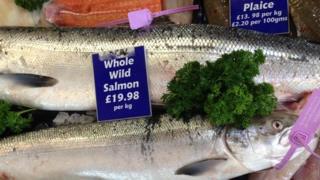 Licensed netters can now fish for salmon on the River Tavy and River Tamar in Devon and Cornwall again after a decade-long ban.
Net fishing was banned after a fall in the salmon population.
The Environment Agency say that stocks have now improved so five licences have been granted, four for the River Tamar and one for the River Tavy.
Fisherman Alec Friendship said he was "delighted" to be fishing for salmon on the Tamar again.
He said: "The 10 years have passed by in a very short time but I'm glad to be back and keep the traditions going.
"I don't think they will replace the licences for the next 10 years as my generation packs up, which is a pity."
Mr Friendship, who paid £343 for the licence, said he could only catch 23 fish per season, which lasts 12 weeks, before hitting his quota.
Fishmongers in the area say they want more licences to be granted to fishermen as there is a real desire for Tamar salmon.
Rob Wood from the Environment Agency said it banned salmon fishing as stocks were critical.
"Ten years have passed and we have reviewed the stocks again. They have improved on the rivers and as a result of that we have allowed the nets men to come back and restart their fishing," he said.
"This time we haven't given them the unlimited access to the fish as before. Although stocks have improved they haven't improved as much as we would have hoped.
"People catching fish with a line will have to release two out of every three fish they catch. The nets men will have a quota system."