Cornish Navy officer returns to Cornwall in command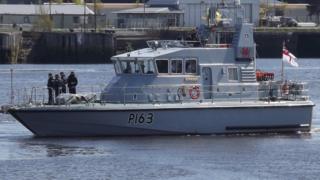 A Cornish Royal Navy officer has sailed her vessel back into Cornwall for food and supplies on the final leg back to the base port in Cardiff.
Lt Gemma Britton, who lives in St Agnes, is the commanding officer of HMS Express, a fast patrol vessel.
HMS Express is a Wales University Royal Naval Unit ship.
The ship spent seven weeks visiting 23 different ports in France and Spain before arriving in Port Pendennis Marina, Falmouth.
Lt Britton said: "It is a great privilege for me to be able to visit my home county in a ship that I am now in command of.
"I am really proud of my Cornish roots and can't wait for the chance to show the students the stunning Cornish coastline."