Meat firm Tulip to invest £16m in operations in Cornwall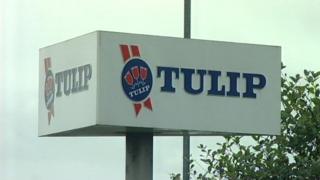 A meat production firm is to invest £16m in its operations in Cornwall, which could create 250 jobs, company managers say.
Tulip Ltd said its owner, the Danish Crown Group, is to make "significant investments" in its de-boning facilities at the Bugle site.
It is also installing a new drying and curing facility at its Redruth site.
The company said the investment programme was being part-funded by a government grant of £4.8m.
It added that the expansion of the Bugle and Redruth facilities were still subject to planning permission but that, if approved, improvement works should start in autumn 2014.
The company - which produces fresh pork and bacon as well as cooked and canned meats - also has a plant in Bodmin.