Fowey's annual regatta welcomes Red Arrows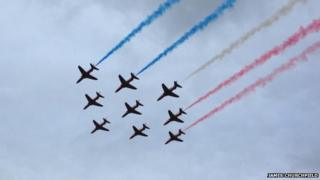 Thousands of people have visited the Cornish resort of Fowey for a display from the Red Arrows.
The flight was part of the annual Fowey Royal Regatta, which is running until Saturday.
The event has a long history which has seen visitors including Queen Victoria, Prince Albert and Queen Elizabeth II.
The sailing performances include an appearance by the Troys, a class of sailing boat which is built exclusively in Fowey.
Organisers estimated about 40,000 people flocked to the town and surrounding area to watch the spectacle.
They were designed in the 1920s specifically for racing in Fowey harbour.
Other events during the regatta include a pasty-eating competition and live music each day and night.
A giant pasty ceremony also takes place, in which the pasty arrives by boat from nearby Polruan.
Tania Daniel, who runs Brown Sugar, a cafe in Fowey, said: "It's our busiest time of the year. On Red Arrows days we've usually got queues out of the door. This is our ninth Red Arrows day."
Organisers said the weeklong event costs in the region of £30,000 and is funded through sponsorship, selling souvenirs and, mainly, by street collections.