Cornwall towns and parish councils may be asked to take on £34m of services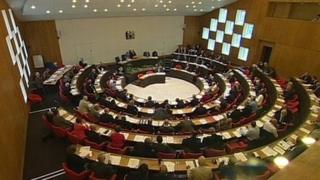 Town and parish councils in Cornwall may be asked to take on about £34m of services as part of Cornwall Council's proposals to save nearly £200m.
The unitary authority said the plans aimed to make more than £196m of savings over four years.
The council said the draft budget aimed to "protect services for vulnerable people and children, public transport and road repairs as far as possible".
A consultation is being held into the proposals until October.
'Difficult period'
The Liberal Democrat/Independent-led authority acknowledged the proposed savings, from 2015-19, were of an "unprecedented scale" and said "all areas of the council are affected by the draft proposals".
In its proposals, the council said it would "welcome and support any town or parish (or other organisation) which is able to take on a council service and run it better or more efficiently".
The council's net budget for 2013/14 was just under £526m. It said it was facing outgoings of £632.7m for 2018/19 "if no management action is taken".
It said the increases were due to factors including inflation, staff receiving nationally-agreed pay awards and other additional costs.
Alex Folkes, cabinet member for finance said a recent review had "identified more than £30m of savings through a radical restructure of senior management, reducing the use of consultants and agency staff by 59%, and a local pay agreement with staff".
However, chief executive Andrew Kerr also said jobs losses could form parts of the savings.
He said: "It is likely to be hundreds rather than tens. It is a difficult period for staff and we'll make sure they're fully involved in the process."