Council plan to axe Visit Cornwall branded as 'tragic'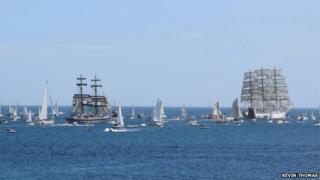 Plans to axe funding for Cornwall's tourist board have been branded as "tragic" and "very disappointing".
Visit Cornwall could lose its annual grant of £850,000 from Cornwall Council as part of authority budget cuts.
The money makes up two-thirds of the organisation's funding for marketing, events and research.
The Liberal Democrat/Independent-led council said it had to make "huge savings" and "was looking at doing things differently".
If the plans, part of the proposals to save nearly £200m, are approved they will be introduced by March 2015.
Malcolm Bell, the head of Visit Cornwall, said the group would look at "new models" and "cutting costs".
Visit Cornwall says it gets more than two million website visits a year and estimates its activity led to an extra £17.5m spent by visitors last year.
'Death knell'
Nigel Carpenter from St Michael's Hotel in Falmouth said: "Taking away our countywide tourist board at a time when we're starting to see growth coming back into tourism is quite tragic.
"To effectively sound the death knell is very worrying indeed."
Shaun Davey, the chairman of the Falmouth and District Hotels Association, described the news as "a huge shame and very disappointing".
He said he was worried about "the detrimental affect it is going to have on Cornwall as a whole".
John Pollard, the council leader, said: "I want to assure Cornwall that we recognise the importance of tourism, we're trying to do it differently."
On 1 September the authority announced town and parish councils may be asked to take on about £34m of services as part of its proposals to save nearly £200m.
The unitary authority said the plans aimed to make more than £196m of savings over four years.