Spa plans for fire-hit Falmouth hotel site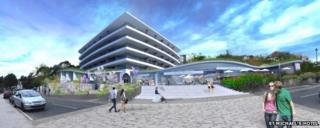 Plans for a multimillion-pound spa and health complex have been submitted to Cornwall Council.
Three restaurants, a health club and dozens of apartments would be built on the Falmouth Beach Hotel site, which was damaged in a fire in 2012, if proposals are approved.
The plans, which developers said would create more than 90 jobs, have been submitted after a consultation.
Councillors are expected to make a decision in early November.
The project will also include four eco-lodges and a shop.
In June, owner Nigel Carpenter said the initial estimate of the work was £25m, but a cost consultant has since said it is expected to cost more than £30m.