Grade I listed building in Penzance to be repaired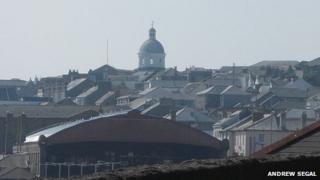 A listed building in a west Cornwall town which was badly damaged by water from a leaking roof will be repaired, a banking company has confirmed.
Lloyds bank uses Market House in Penzance, but the unoccupied eastern half has been empty for several years.
The interior has been damaged by water and windows in the empty half of the listed building have been boarded up.
Campaigners have been pressing the bank to carry out the work, which it has confirmed will begin in October.
The building dates back to 1837.
David Nebesnuick, the mayor of Penzance, said: "It is an important building. It has been a matter of concern.
"We would like to see it brought back into use as soon as possible. It is a Grade I listed building. [Lloyds] have a responsibility to maintain it in good order."
In a statement Lloyds bank said it understood Market House was important for Penzance and it took its responsibility to manage the building "very seriously".
It went on to say: "We are currently finalising our evaluation of the required work, and plan to carry out a repair programme over the coming months. We expect enabling work to commence in October".
The bank hopes to let the vacant space once the work has been completed.