Cornwall Council in £500,000 infant meals shortfall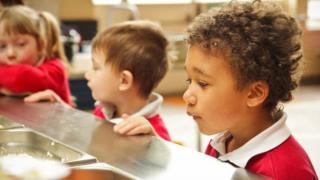 Cornwall Council was left more than £500,000 short of funding to provide free schools meals for infants, it has emerged.
The authority said it spent £1.4m upgrading kitchens but received £847,000 from the government.
But the Department for Education (DfE) said it had also provided £616,000 to help small schools pay for catering staff.
The council met the shortfall from a surplus in other education funding.
The DfE said the authority had received "significant financial support" for the meals for four to seven year olds.
The council upgraded the kitchens at 112 of its 236 primary schools.
Three schools will be providing packed lunches for the next two to three weeks while work continues and 12 will have a reduced menu until work can be carried out in October half term.
'Lowest figure'
A DfE spokesperson confirmed the Liberal Democrat/Independent-controlled council had received £847,000 of capital funding to help upgrade kitchen and dining facilities.
It said the authority had also received the £616,000 to help small schools, those with under 150 pupils, pay for extra catering staff.
A spokesperson said: "Providing infant free school meals will help children do better in school, as well as helping them to eat more healthily while saving hardworking taxpayers up to £400 a year."
Councillor Andrew Wallis, Cabinet member for schools, said: "We surveyed our kitchens and we knew the work that had to be done to deliver it.
"They worked out the funding based on the number of pupils.
"We went back and said it was not enough. It was costed and properly done.
"We delivered 112 kitchens and we did it on time and on budget. That was the lowest figure we could have done it for."
He said £616,000 for staffing was not allowed to be spent on capital spending on the kitchens and it was given directly to the schools, not the local authority.