Cornwall Council needs to make £18m extra funding cuts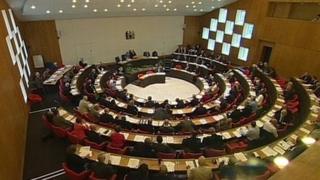 Cornwall Council needs to find an additional £18m of savings on top of the £41m worth of cuts announced earlier this year, the BBC can reveal.
Revised figures show the Liberal Democrat/Independent-led council has to save £59m by April 2015.
The authority said £45.6m of savings would be "achieved" resulting in a shortfall of nearly £14m.
Stuart Roden, from union Unison, which represents council staff, said he was worried about the future.
'Serious situation'
The council had agreed budget cuts of about £41m in February, but that was increased because of "new in-year spending pressures", the authority said.
It has not yet revealed where the money will be saved.
Opposition Conservative leader Fiona Ferguson said: "I very much doubt they will make-up that saving.
"It is a serious situation."
Mr Roden said he knew the council had "pressures" but did not "quite know the size of it".
He said: "We're reassured in that they don't seem to talk about redundancies, but we're worried about the future."
'Contingency budget'
Alex Folkes, the cabinet member for finance and resources, said additional spending pressures and shortfalls were "expected" given the economic situation.
He said the shortfall was mostly in relation to adult care and the council "fully expects to identify additional savings" to meet it.
"Failing that the council will draw from its contingency budget to ensure there is no overspend at the year end," he added.
Cornwall Council's saving plans for 2014-15 include cuts to adult care and health, the closure of two respite centres for disabled youngsters, and cuts to library funding.
The council plans to reduce spending by nearly £200m by 2019.