Hay bale event raises record sum after vandalism of its mascots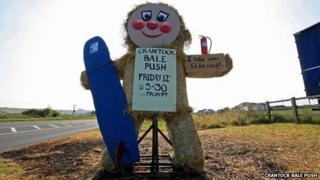 A Cornish fundraising event set back by the vandalism of its straw bale mascots has raised a record sum for charity, organisers have said.
The Crantock straw man had to be rebuilt shortly before the big bale push at the weekend.
More than 140 teams took part in the 2014 event near Newquay, raising £8,500 for local causes.
The bale push, in its 15th year, has raised more than £80,000 for charities in Cornwall.
The giant straw Baleman and his dog mascot were destroyed in a suspected arson attack last week.
Volunteers only had time to rebuild Baleman before the event. A fire extinguisher was added to the new figure, which stood next to the A3075 near Newquay.
The race is run in teams of four, pushing a full size round bale of straw measuring about 4ft (1.2m) over distances of different lengths depending on the class.
The main course is a full quarter of a mile through the village, both up and downhill.
Organiser Nigel Eustice said: "We had a 40% increase in participating teams. Last year there were an astonishing 107 teams of all ages, this year we had an incredible 147."