Photography student guilty of voyeurism charges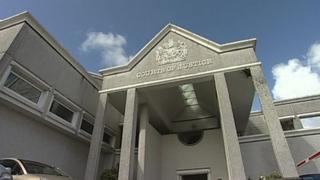 A photography student has been found guilty of two charges of voyeurism after he secretly filmed two models working for him getting changed.
David Parnall, 26, had previously denied the charges but he was convicted at Truro Crown Court following a trial.
The two women, who were in their early 20s at the time, said Parnall approached them on Facebook and offered them paid modelling sessions.
He was released on bail to be sentenced on 7 October.
Prosecutor Julia Cox said Parnall told the first woman he wanted to take pictures of her in an 18th Century manor house but when she arrived at the location it was a derelict farmhouse.
'Left camera running'
"Throughout that she was having to change and that was taking place in a spare room, making it clear to the defendant that he wasn't welcome to watch her get changed," Ms Cox said.
"Before he got to that point, the defendant left the camera running, having switched it to video mode."
Ms Cox said Parnall, previously of Chegwyns, Foxhole, Cornwall, but now living in Dunstable, Bedfordshire, captured the woman getting changed four times during the day.
Parnall was arrested and his camera gear seized after the woman complained to the police.
Investigations revealed a video of a second woman getting undressed, who was later traced by officers.
Giving evidence during the trial, she said: "I was worried he was going to do something sexual or whatever but at the same time I thought because he is quite small, I could just run away or whatever.
"I thought how totally stupid. Coming out somewhere on my own."
The court was told the defendant accepted that he did video the women without their knowledge but had claimed "there was no sexual gratification, that wasn't the intent at all".