Alcohol-related crime: Devon and Cornwall Police in Twitter pilot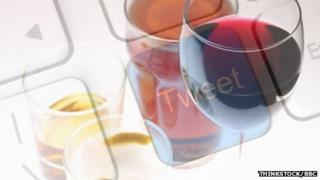 Alcohol-related crime will be shared online in a social media pilot by Devon and Cornwall Police.
Every incident dealt with by officers in the force area overnight on Friday will be posted on Twitter to raise awareness of the issue, the force said.
Tweets will be posted as incidents occur between 20:00 and 02:00 BST using the hashtag #alcoholharm.
A force spokesman said about 40% of calls taken during the evening and night-time hours were alcohol-related.
Assistant Chief Constable Paul Netherton said: "We will be tweeting a snapshot of the calls we receive, together with crime prevention advice and signposting relevant agencies during key times on Friday night.
"I think people will be interested to see how things progress as alcohol consumption starts to take its toll throughout the evening and be surprised by the number and variety of calls we receive."
The event, dubbed a "tweetathon" by Devon and Cornwall Police, coincides with a national weekend of activity run by the Association of Police Officers (ACPO).