Manx Shearwater chicks on Isles of Scilly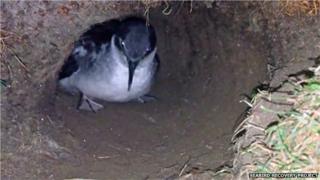 Manx Shearwater chicks have been spotted for the first time in living memory in the Isles of Scilly.
The chicks have been filmed on St Agnes after a year-long project to remove brown rats.
Previously the eggs and chicks fell prey to the rodents.
The adults have been returning to their St Agnes burrows each year but until now there has been no evidence of breeding, said the Isles of Scilly Seabird Recovery Project.
There are a total of about 10 healthy chicks preparing to make their first migration to South America.
---
Manx Shearwaters
•About 300,000 pairs breed annually in the UK
•These brilliant fliers are also excellent swimmers, but dreadful walkers - only coming on to land to breed
•In early autumn they migrate to the coast of South America returning to the UK in spring
Source: BBC Nature/RSPB
---