Plans revealed for cancer support unit in Truro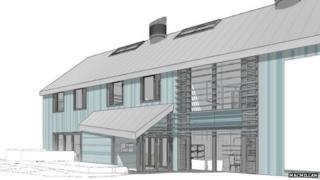 Plans for a new cancer information and support centre have been announced for Cornwall and the Isles of Scilly.
Macmillan Cancer Support and Royal Cornwall Hospitals NHS Trust launched a £1m appeal to help build the new £2.8m facility.
The charity has committed £1.8m to the centre, which will be built at the Royal Cornwall Hospital in Truro.
A spokesman from Macmillan said it expected to receive at least 13,000 visits every year.
The charity said an estimated 22,000 people in Cornwall and the Isles of Scilly were living with cancer and this number was expected to rise to 43,000 by 2030.
Anna Burton, who has been diagnosed with breast cancer twice, said: "A support centre is desperately needed. Because we're such a rural county, you need something right there to give you information, as soon as you're diagnosed."
Ed Murphy, senior Macmillan development manager, said: "We want to make sure that no-one faces it alone, and the Cove Macmillan Support Centre will mean that people know where to go for help."
There is currently no dedicated cancer support centre for the 420,000 people living in Cornwall and the Isles of Scilly, the charity said.
Suzie Warren, the area fundraising manager for the charity, said: "We hope that the new centre will be open in 2016.
"We are going to need the support and generosity of the people of Cornwall and Isles of Scilly to reach this goal."