Liberal Democrat Simon Rix calls for Cornish assembly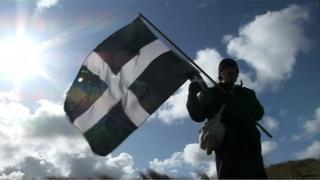 A Liberal Democrat councillor has said Cornwall Council needs to be turned into a Welsh-style assembly.
Simon Rix said "lots of people" had complained to him that the council lacked powers.
The Liberal Democrats are discussing devolution at their party conference but have already voted to campaign for an assembly.
The nationalist Mebyon Kernow party said the plans, opposed by Labour and the Conservatives, "lack ambition".
'Extra powers'
Under the Liberal Democrat proposals, Cornwall Council in its current form would be abolished.
The 123-seat authority currently has 37 Liberal Democrat, 36 Independent, 29 Conservative and eight Labour councillors.
Other groups represented include: UKIP, Cornish nationalists Mebyon Kernow and the Green Party.
The Conservatives and Liberal Democrats each have three MPs in the county.
Councillor Simon Rix said: "Lots of people complain about Cornwall Council not being able to do certain things, not having the power to change other things.
"The answer is to give Cornwall Council extra powers and turn it into an assembly."
'Big mistake'
Conservative Councillor Fiona Ferguson disagrees.
"I think that the idea of putting in another layer of politicians when you're actually trying to save money on frontline services would be a big mistake and I don't think it would be received well by people at all," she said.
Her view was echoed by Labour councillor Hannah Toms.
She said: "When I go out on the doorsteps, which I do a lot, no-one's ever said to me, 'What we need is another layer of government and more politicians'."
Councillor Dick Cole, leader of Mebyon Kernow and one of the party's three councillors, said the Liberal Democrat plans did not go far enough.
"The Lib Dems say they want devolution but all they're talking about is tweaking local government, which is totally lacking in ambition," he said.
"We need real devolution. We need Cornwall to be seen as if it was Wales or Scotland, not just an English county."