Polkyth Surgery: CQC reported 'poor hygiene'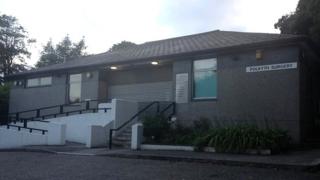 A doctor's surgery found to have "poor hygiene" which posed "potential risks to patients" has been told to improve by the health watchdog.
Inspectors visiting Polkyth Surgery in Cornwall, found flooring was "visibly dirty" and were told about backlogs in test results being processed.
The Care Quality Commission (CQC) inspected the surgery in St Austell after it had financial difficulties.
The surgery is under new management who were unavailable for immediate comment.
The CQC inspected the surgery on 28 August after "concerns" were raised that "essential standards" were not being met.
It found action was needed on five standards including cleanliness and infection control, and patient care and welfare, and said it found several examples of "poor hygiene that posed potential risks to patients".
'Criminal record check'
The unannounced inspection found the surgery had insufficient GP appointments.
Inspectors were told about backlogs of results letters and pathology results which were waiting to be processed when GPs were away from the surgery.
The CQC found the practice had not carried out a standard criminal record check - which identifies those not allowed to work with children and vulnerable adults - on all staff.
The report said GPs had not "processed test results and hospital letters in a timely manner" and some disposable screening curtains were not changed every six months as required.
A new consortium, known as the St Austell Healthcare Group, took over the surgery on 1 September.
The surgery, which has about 9,500 patients, has to explain to the CQC how it plans to meet the standards in a report by 4 November.
Dr Alistair James of the St Austell Healthcare Group said: "Since taking over at Polkyth, there's been a concerted effort between the new team of doctors to improve all aspects of the service.
"One of the first things we did was to appoint a lead for patient safety to make sure all CQC concerns are addressed."
NHS England said: "We're confident that the service at Polkyth Surgery is improving due to the joint efforts of the team of doctors, who have been working extremely hard to make sure issues raised by the CQC are addressed."