Cornwall estate agency fraud: Tim Glasson jailed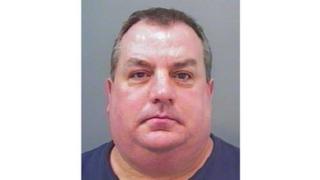 An estate agent has been jailed for swindling his clients out of thousands of pounds.
Tim Glasson, of Camborne, Cornwall, committed a "very serious breach of trust" by "robbing Peter to pay Paul", Truro Crown Court heard.
Judge Christopher Harvey Clark told the court an 87-year-old woman had lost £2,000 - "a small fortune" to her.
Glasson, 51, pleaded guilty to 10 counts of fraud and was jailed for 21 months.
Judge Clark said: "This offence to which you have pleaded guilty reflects a very serious breach of trust over a two-and-a-half-year period."
'Distress and anger'
The court heard Glasson was previously "held in high regard" as an estate agent but got into trouble after starting his own company, Tim Glasson Lettings, in 2010.
The judge said rental payments and deposits paid by tenants were "unlawfully and dishonestly kept" by Glasson and used for his own purposes.
The total cost of the fraud was not revealed, however the court heard Glasson had made some effort to pay back money to victims but still owed approximately £8,000.
Judge Clark said: "As a consequence of your behaviour people were caused financial loss, distress, inconvenience and anger and not least, immense frustration.
"I have a statement from a lady of 87 years who lost money as a result of your dishonesty. For her as a pensioner, the sum of £2,000 represents a small fortune."
The judge accepted "a strong element of robbing Peter to pay Paul".
Following sentencing, Det Con Jon Viant, from Camborne CID, said: "They were vulnerable victims that were completely taken in by him and were devastated when they lost money because of his dishonesty."