Camelford erects granite poppy to mark World War One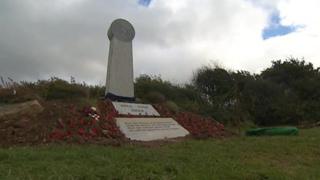 A 10ft (3m) high granite poppy has been erected in Cornwall to commemorate the centenary of World War One.
The sculpture in Camelford was developed as a community project, with stone coming from nearby DeLank quarry.
Stonemason Steve Kay carried out the carving, which sits on an earth mound.
A waterproof time capsule is contained in the mound, at the base of which are several granite boulders with a poem that was selected locally, adorning one of them.
Organiser Vaughan Williams, said it was about building up the community.
He said: "I wanted a memorial which brought the whole village together, not another war memorial but something everyone can contribute and be proud of, from small kids to very rich people."
The £3,500 pound project was funded by donations from people in the town.
The poem reads: "May the flower of Flanders field seed the hearts of Cornish young. May the valiant never yield to call for peace in every tongue."