Injury claim fraudster Paul Gustar given suspended sentence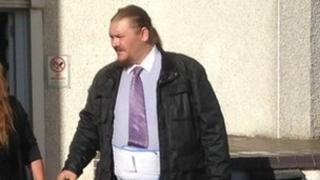 A fraudster who tried to claim damages for a non-existent injury at work has walked free from court.
Insurance giant Axa prosecuted Paul Gustar, from Cornwall, who lied about slipping on a wet floor and tried to claim a six-figure sum in compensation.
Gustar, 43, of Fore Street, Torpoint, dropped his fraudulent claim but Axa brought a prosecution against him and he was convicted of fraud.
The Truro Crown Court judge gave him a suspended 18-month sentence.
The court heard Gustar had lied to a doctor and to his employer, Steve Porter Transport, when he claimed to have injured himself slipping on the wet floor of a lorry bed on the Isle of Wight in December 2007.
Gustar made false claims to a doctor on 4 August 2010 and in a compensation claim in March 2011.
The court heard he withdrew his claim completely in October 2011.
'Entirely justified'
Judge Christopher Harvey Clark told Gustar: "The view was taken that a person who brings a fraudulent claim for damages should not be allowed to walk away scot free."
The judge said the fraud was capable of amounting to more than £200,000 but by August 2011 the claim was "something in the order of £10,000".
"The insurance company has been entirely justified in bringing this prosecution," the judge said.
Gustar was previously found guilty by a jury of two counts of fraud.
The judge said he was prompted by a letter from Gustar's wife to "show mercy" and sentenced him to 18 months on each count, suspended for two years.
The judge ordered the costs of the private prosecution to be paid by central funds.
Following the hearing, prosecution barrister William Featherby QC said he believed this was the first private prosecution of its kind in the UK.