Mawgan Porth deaths: Rescuers 'died helping surfers'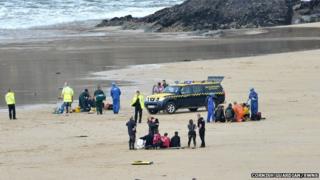 Three adults who died in a beach tragedy in Cornwall could have been trying to save young surfers in difficulty, witnesses have said.
Two men and a woman died after being airlifted to hospital from Mawgan Porth beach, near Newquay, on Sunday.
The BBC understands one of the victims to be Stuart Calder, a 52-year-old knee surgeon from Leeds.
A 44-year-old man and 42-year-old woman, both from St Austell, were the other casualties according to police.
Two people aged 18, a 16-year-old and a 15-year-old managed to get out of the water and survived.
BBC West of England Correspondent Jon Kay said witnesses described the adults going into the sea for the teenagers.
The beach is patrolled by lifeguards over the summer so was not covered by any on Sunday.
RNLI lifeguards believe the victims were caught in a rip current, a fierce stream of water rushing out to sea.
Eric Hanson paid tribute to his childhood friend Mr Calder.
Mr Hanson, who lives in Florida, said: "He was very compassionate and very generous and a friend to all."
Mr Calder's family were "devastated" by what had happened, he added.
Fatalities: Surfers and body boarders
2009 - one man at Newquay, Cornwall
2010 - one man at Perranporth Beach, Cornwall
2011 - one 45-year-old woman at Perranporth Beach and one 33-year-old man at Lowestoft, Suffolk
2012 - one 61-year-old man at Newquay
2013 - one 40-year-old man at a beach in Pembrokeshire and one 42-year-old woman at Croyde Bay, Devon
2014 - one 25-year-old man at a beach in Northern Ireland
Source: Maritime and Coastguard Agency
Brendon Prince, a lifeguard from Torbay in Devon, was visiting Mawgan Porth with a friend when the drama unfolded.
He said: "We ran to the first person and dragged them out of the water with one or two other people helping.
"The gentleman was a 52-year-old male. Obviously we sent for a defibrillator and paramedics as soon as we could.
"We then did CPR on the male for 20 minutes before the emergency services arrived."
Mr Prince said he spoke with the man's wife at the scene.
Rip currents
Sometimes wrongly referred to as rip tides, rip currents are strong, localised and narrow currents of water
They move directly away from the shore and cut through the lines of breaking waves
The RNLI has said they can pose major problem for surfers, swimmers and bodyboarders, dragging them out of safe depths
People who do not have the necessary water skills can be placed at risk in a rip current if they panic or exhaust themselves swimming directly against the flow
If you are caught in a rip current:
Do not try to swim against it or you risk exhaustion
If you can stand, wade and do not swim
If you can, swim parallel to the shore until free of the rip and then head for shore
Always raise your hand and shout for help
Source: Press Association and RNLI
He said he believed the man had been in the water with his son and may have been caught in a rip current.
The RNLI said its lifeguard patrols ran from May to September. It also covers nine other beaches in Cornwall over the October half-term.
An inquiry into what happened "will form part of the review into whether we need to extend cover there", it said.
The alarm was raised shortly after 13:00 GMT and a search was launched involving Newquay and Padstow Coastguard rescue teams, RNLI lifeboats and a Royal Navy helicopter from RNAS Culdrose.
An RNLI spokesman said regular risk assessments were carried out and lifeguards were positioned "at certain beaches during the summer months and at times that we think will be busy during the year".
"That risk assessment is decided by taking into account the number of users, the type of users, the topography of the area - how the waves fall there - and the proximity of other rescue services.
"Every season an assessment is carried out to see what lifeguards there should be on every beach."
She stressed that "clear signs" at the beach emphasised the lack of lifeguard cover and the dangers of strong currents.
Nick Tiscoe, owner of the Surf Club Cornwall, which is based at Mawgan Porth, said: "Conditions on Sunday weren't extreme, there were strong waves, but it wasn't a red flag day.
"If there had been lifeguards it would have helped, but at the same time nothing really ever happens here, it's a very rare occurrence."
Annika Connolly, from Discovery Surf School
"In an ideal world there would be RNLI cover on more beaches, especially during half-term. It would make a huge difference.
"I think they do need to reassess their funding for patrols as more people travel to the coast during the school holidays.
"Perhaps more can be done to also publicise the signs."
Mrs Connolly, who runs Discovery Surf School at Bigbury-on-Sea in Devon, said anyone who enters the water "must exercise common sense".
She added Mawgan Porth was a "dangerous beach which was quite rocky" and there were safer ones nearby such as Towan Beach.
Peter Abell, owner of the nearby Kingsurf surfing school, said sea conditions on Sunday were "not as bad as they can be" but added some currents were "slightly more dangerous than usual".
Nick Rees, operations manager from Surfing GB, the national governing body, said: "This is a rare occurrence, but one that we must learn from as a surfing community."
Supt Jim Pearce, of Devon and Cornwall Police, said on Sunday: "This is a tragic incident and our condolences go out to the families of those involved.
"Along with the other emergency services, we are now working to ascertain the full circumstances of this incident and our priority is to contact the families of those involved and offer all the support we can."
Newquay Liberal Democrat MP Stephen Gilbert said: "In Cornwall we're trying to get more people to visit us for longer each year.
"If we are going to extend the season and draw people down not just in the traditional summer months, but throughout the year, we need to make sure we are providing adequate protection."