Newquay nightclub death man had 'evil' look, court hears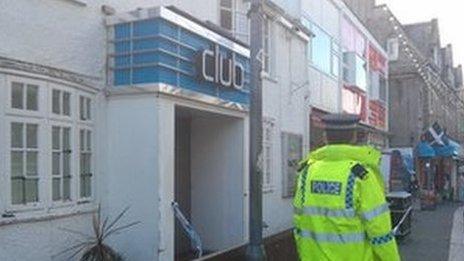 A doorman accused of killing a man as he and three others restrained him outside a nightclub, said he had "an evil look in his eyes".
Michael Kearns, 48, died outside Sailor's nightclub, in Fore Street, Newquay, in April 2013.
Graham Lutey, 35, from Summercourt near Newquay, said he was "frightened" by Mr Kearns when restraining him.
Mr Lutey, Lewis Bowns, 26, Richard Favetta, 30 and Ian Harold, 46, are all charged with but deny manslaughter.
Truro Crown Court heard Mr Kearns had been ejected from the club, after assaulting a man with learning difficulties with a bar stool.
"He was just incredibly strong and at that point I was frightened of Mr Kearns," said Mr Lutey.
"There was just this evil look in his eyes. It was scary, knowing he had used a weapon inside."
The court previously heard keen angler Mr Kearns was kept face down on the pavement for about 10 minutes until he lost consciousness, in the early hours of 27 April 2013.
Mr Lutey said he stumbled as the doormen were taking him out of the club.
"We didn't take him to the floor, we were just trying to get him away," he added.
Mr Lutey told the court he had learned, in training, to lie on somebody in order to detain them.
When asked by defence barrister Richard Smith QC if he had used "unreasonable force" at any point, Mr Lutey said that was not the case.
The doorman said he was advised by friends of Mr Kearns not to let him up from the ground.
"Mr Kearns was moving and threatening us to the end," said Mr Lutey. "If there was anything I could have done to change what happened I would have done it."
The court previously heard Mr Bowns, of Lewarne Road, St Columb; Mr Favetta, of Penmere Drive, Pentire; Mr Harold, of Fernhill Road, Newquay; and Mr Lutey were working together and should be held jointly responsible for the outcome.
Related Internet Links
The BBC is not responsible for the content of external sites.