Mawgan Porth surf deaths tragedy was 'unprecedented'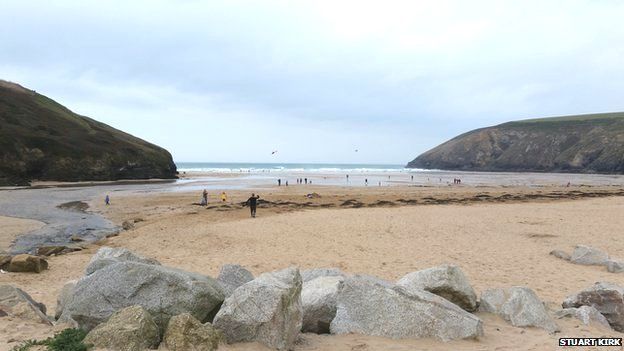 The deaths of three people who were caught in a rip current while apparently trying to rescue young surfers has caused heartbreak in a close-knit Cornish community. Two days on, BBC News finds residents trying to move on from the "unprecedented" tragedy.
The first Stuart Kirk knew of the unfolding tragedy on his doorstep was when the girl ran into his shop and told him to call for help.
Mr Kirk owns Betty's surf shop, a local business right next to the beach at Mawgan Porth - and a natural place to run to raise the alarm. There were people in trouble in the sea, she told him.
He rang the coastguard - one of many local people to do so - but despite the best efforts of the emergency services the trio were pronounced dead in hospital.
The names of Rachel Dunn, 42, and Kevin Reynolds, 44, and 52-year-old Stuart Calder will forever live with the community.
But the tragic circumstances of their deaths should not define it, according to the people BBC News spoke to.
Mr Kirk says the mood around the community was "very sombre" the day after the tragedy.
"Three deaths are totally unheard of. We are such a close-knit community, everybody knows each other," he says.
"It's still very much the topic of conversation, but we're trying to move forward in a positive way."
One of the inevitable consequences of a high profile tragedy is the media attention it brings and Mr Kirk says the area has been "swarming with newspaper reporters and journalists".
What the community is desperate to avoid, he adds, is the area being painted as a stretch of coastline that surfers should be wary of.
"Despite the reports, Mawgan Porth is a family environment, it's not dangerous," he adds.
His fears are echoed by resident and business owner Anton Page, who owns the Seavista B&B.
"Since Sunday there has been mixed feelings in the community," he says.
"We feel terrible about what's happened, but we're also worried people might be scared off.
"Our main concern is people think Mawgan Porth is dangerous.
"This stretch of coastline experiences similar conditions and unfortunately it happened here, it could have happened along any section."
Mawgan Porth is about two miles (3km) from Newquay Airport and Mr Page, himself a keen surfer, says concerned guests have asked him for advice since the tragedy.
"There are still beaches nearby which have lifeguards and if guests are inexperienced or concerned they can use them," he says.
"Yesterday [Monday] there were definitely fewer people on the beach, but beforehand a lot of people had been using it.
"Today [Tuesday], people are walking on the beach, locals are talking to people to reassure them and giving them advice."
Nick Tiscoe, owner of the Surf Club Cornwall based at Mawgan Porth, says the beach's two surf schools were back in the sea on Monday - 24 hours after the tragedy.
He says fewer people have taken surf lessons since the tragedy, but that this is "no surprise".
"We've been reassuring a lot of guests, where to surf, [and] we've told people they can surf alongside us so we can keep an eye on them if they want," he says.
"The forecast is good this week, the waves aren't too big and there are favourable winds."
He says the "biggest danger is a quiet beach" where surfers and swimmers can get in to difficulty and not be seen.
"You have to drive here and it's not that busy, which is one of the nice things and it brings back the visitors," he adds.
"Busy beaches can also bring dangers such as surfer collisions."