'Drunk' Flybe pilot arrested before flight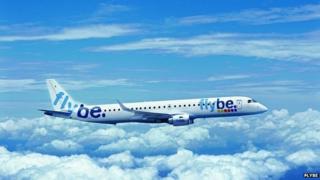 A Flybe pilot was removed from a plane and arrested on suspicion of being over the drink-drive limit just before he was due to fly.
The pilot was due to fly from Newquay Airport in Cornwall to London Gatwick on Wednesday morning before he was removed for a breath test.
A police source told the BBC that officers were alerted after a fellow crew member became concerned.
A police spokesman confirmed a 48-year-old man was arrested.
'The pilot was unwell'
The flight was then cancelled and passengers faced delays of almost five hours.
One passenger, who asked to remain anonymous, said: "We all got on the plane and then there was an announcement. We were told the pilot was unwell."
A male passenger who was travelling to Mexico missed his connection from London Gatwick because of the delay.
A Devon and Cornwall Police spokesman said: "A 48-year-old man from Crediton, Devon, was arrested on suspicion of being over the drink-drive limit.
"He was taken to Newquay police station."
The pilot was later released on police bail until 8 December.
In a statement, Flybe said: "Flybe can confirm that one of its pilots volunteered to help the police with their inquiries at Newquay Airport.
"Flybe is not able to comment further while the police investigation is taking place."
A Civil Aviation Authority spokesman said: "For pilots the blood/alcohol limit is 20 milligrammes of alcohol per 100 millilitres of blood. For context, the UK drink drive limit is 80 milligrammes per 100 millilitres."