Mevagissey fisherman death: Fish stocks 'destabilised boat'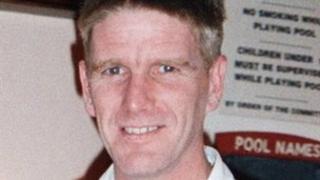 A man who drowned when a fishing boat sank lost his life because excessive numbers of fish in the vessel's hold destabilised it, an inquest heard.
Ian Thomas, 50, from Mevagissey, Cornwall, died when the Heather Anne capsized after fishing for pilchards in Gerrans Bay in 20 December 2011.
Investigators said fish may have been "sloshing about" in an overloaded boat.
In a narrative verdict, a jury in Truro called for improved safety regulations and said lessons could be learned.
Skipper Robert Hunkin said the 11m (36ft) long vessel, built in 1971, had a catch that was "more than we wanted" and another vessel, the Lauren Kate, came alongside and took some fish from some of the Heather Anne's nets.
Mr Hunkin said the vessel sank "very rapidly" after the bow "shot under water" while sailing back to port.
'Inevitable' capsizing
The Lauren Kate rescued him and Mr Thomas before Mr Thomas was airlifted to hospital in Truro where he was pronounced dead.
Marine Accident Investigation Branch investigator Howard Flegg said an estimated 10.5 tonnes of fish the vessel was carrying was double its capacity and the weight meant it could only list 13 degrees before taking on water.
He added that fish and some water in an open PVC tarpaulin tank in the hold were "sloshing about", possibly suffering from free surface effects, leaving the vessel in a "very precarious" position.
He said the circumstances meant the roll of the boat was "exacerbated" and capsizing was "inevitable" after rolling had started.
Coroner Barry van den Berg said the inquest jury ruled the accidental drowning was due to circumstances of the weight of the cargo causing the boat to destabilise.