RNLI warning as lifeguard cover ends in Cornwall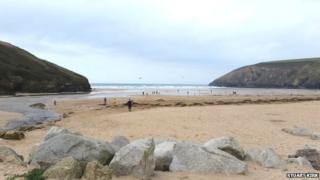 The RNLI has warned people to be aware of potential danger as it prepares to finish lifeguard cover for the winter following three deaths in Cornwall.
The RNLI advised to check the conditions and surf as part of a group.
On Sunday 26 October two men and a woman died and four teenagers were saved after getting into difficulty in the sea in Mawgan Porth, near Newquay.
Apart from Fistral Beach in Newquay, lifeguards will not return to Devon and Cornwall beaches until Easter 2015.
Simon Crayford, from the RNLI, said: "Make sure that there's always more than one of you so there's someone able to call for help if anyone does get into difficulty.
"Check the conditions, check the local safety signage and if you're unsure try and find a local surfer or local beach user to ask them about what they know about the local hazards so you can be fully aware."
Dave Snell, an experienced surfer at Bantham Beach in Devon, said: "Just the other day there was a kid on a surfboard and I pulled him from the edge of the beach because there's a rip there. I told him to stay in his depth.
"If someone looks like they need help then you help them."
Temporary lifeguard cover will resume for the Easter weekend in April 2015.
When the summer season starts in May 2015 permanent lifeguard cover will return.