Cornwall Council resignation: Alex Folkes leaves over 'personal issues'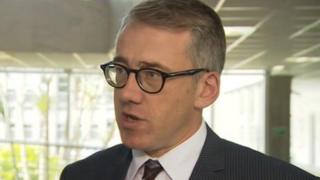 The councillor in charge of Cornwall's finances has stepped down from his cabinet position.
Liberal Democrat Alex Folkes cited "personal issues" as the reason for resigning from his post as head of finance and resources.
In his resignation letter Mr Folkes said he hoped to regain his cabinet position in the future.
The resignation came on the eve of a cabinet meeting to discuss savings of £196m.
Mr Folkes was first elected in 2009 and has built a high public profile.
In 2012 he admitted previously facing a court order for not paying his own council tax on time.
'Great shock'
In his letter of resignation to council leader John Pollard, Mr Folkes wrote: "I hope and expect to be able to address the personal issues I am dealing with and one day to be in a position to regain my seat at cabinet. But that is for sometime in the future."
Mr Folkes said in the letter it had been "an honour" to be part of the cabinet and said the latest budget was "the fairest and best way of addressing the challenge that Cornwall faces".
Mr Folkes will remain as the representative for the Launceston Central division. He was not available for further comment.
Hanna Toms, leader of the Labour group at Cornwall Council, said the resignation was "a great shock".
She said: "It's very difficult timing. It brings into question how that budget process is going to go now that it doesn't have the person who was leading it at the forefront.