Ebola fears worker 'quarantined' after Nigeria holiday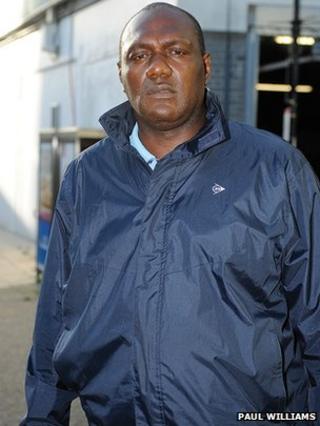 A security guard who went on holiday to Nigeria has been banned from returning to work because colleagues fear he could be carrying Ebola.
Sam Ogunnoiki, 46, faces a three-week "quarantine" period after travelling on 18 October, two days before Nigeria was declared clear of the disease.
Mr Ogunnoiki, who is on a zero-hours contract with Stout Security in Cornwall, said he felt "victimised".
Stout said colleagues were frightened to work with a potential "carrier".
The World Health Organisation, which declared Nigeria free of Ebola on 20 October, said eight people have died of the disease there.
Up to 2 November, 4,818 people had been reported as having died from the disease in five countries; Liberia, Guinea, Sierra Leone, Nigeria and the United States. A further death has been reported in Mali.
Mr Ogunnoiki, from St Blazey, Cornwall, received a letter from Stout director Trevor Mannell before he left for Nigeria.
In it, Mr Mannell states that he had expressed his "very deep concerns" about the Nigeria trip.
"Several members of staff have now voiced their concerns about the possibility of your carrying the Ebola virus back with you and have made it very clear that they are extremely reluctant to work with you on your return," the letter states.
"In order to allay any fears that you are a carrier for this deadly virus I feel I cannot allow you to return to work until you have been back in the United Kingdom for three weeks, which is the incubation period.
"I must also request that you visit your doctor on your return and get a clean bill of health before you can start work with us."
---
Timeline of dispute
2 October: Stout warns Mr Ogunnoiki of Ebola fears among colleagues
18 October: Mr Ogunnoiki flies out on holiday
20 October: World Health Organisation declares Nigeria Ebola free
1 November: Mr Ogunnoiki returns
5 November: World Health Organisation says eight people have died of Ebola in Nigeria
---
Mr Ogunnoiki flew out to visit his family on 18 October and returned on 1 November.
Mr Ogunnoiki said he had been screened for Ebola at the airport in Nigeria on his departure and had been given the all-clear.
"I just went on holiday," he said.
"Then I called in to go back to work and they said I can't go back to work. I will have to be quarantined.
"I am very upset because there's this stigma. It is victimisation because I have been to Africa.
"I am sad and frustrated," he added.
Mr Ogunnoiki said he was now looking for another job.
No-one from Stout was available for comment.