St Ives plans second homes ban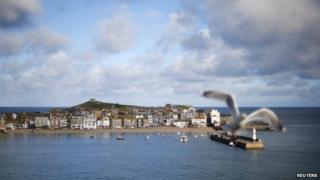 A Cornish seaside town is aiming to put the brakes on new second homes.
A referendum next April will ask the 12,000 residents of St Ives to agree to a ban on building any housing other than "principal homes".
It comes after the number of second homes in the town topped 25% of the total according to the town council.
St Ives is one of 60 Cornwall communities preparing Neighbourhood Development Plans as part of the 2011 Localism Act.
Lynton and Lynmouth in Devon has already stopped the development of new second homes in its neighbourhood plan.
Lucy Davis, neighbourhood plan co-ordinator, said the number of second homes had pushed up house prices and reduced affordability for local people.
The plan also states that at least 50% of new builds in the St Ives parish should be affordable housing.
"We are not saying we don't want any second homes," she said.
"We just want homes to be lived in.
"People have been talking about this for decades and now we have the opportunity to do something."
Dr Jenny Barnett, who researched the impact of second homes on communities in north Devon for Exeter University, said: "Second homes can bring benefits - owners can become very active in their communities and have a higher level of spending, but it is not guaranteed.
"Over all the feeling of residents was that it was important for people to be living there.
"People value communities - we are social in nature and we value that interaction.
"The affordability gap in the South West is also significant. Even households earning £30,000 a year are struggling to afford to buy or rent accommodation."