Truro Cathedral drops 10,000 poppies for Cornish war dead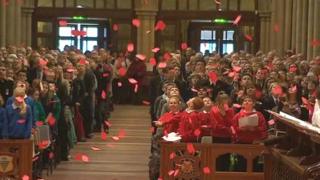 About 10,000 handmade poppies representing people from Cornwall who died in World War One have been scattered in Truro Cathedral.
The poppies were dropped from the top of the cathedral after the two-minute silence at 11:00 GMT on Tuesday.
They were made by children in the county and floated to the cathedral floor from the central tower balcony.
The event was part of a four-year project run by the cathedral called Cornwall Remembers.
Dean of Truro, the Very Reverend Roger Bush, said the impact of World War One changed society for ever.
He said: "If we ever lose touch with history then we are in danger of allowing it to repeat itself."