MP Sheryll Murray says UKIP 'used personal tragedy' in paper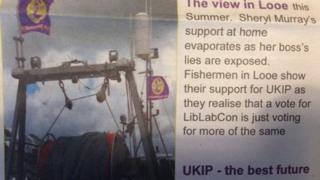 A Conservative MP is demanding a public apology over a UKIP newspaper which she said intentionally referred to her husband's death.
South East Cornwall MP Sheryll Murray's husband Neil, 57, was killed in 2011 when his clothes became caught in a netting winch on his fishing boat.
The UKIP newspaper shows a netting winch saying Ms Murray's "support at home evaporates".
UKIP said it would not withdraw the newspaper and had not meant to offend.
The UKIP newspaper shows a Looe fishing boat's netting winch with UKIP flags and the words "Looe fishermen show their support for UKIP".
'Completely insensitive'
Ms Murray said her husband's death had been widely reported and UKIP would have known the circumstances.
"They know he was killed by being pulled into a drum and that makes me think it was intentional," she said.
"I would have never used someone's personal tragedy against them.
"They could have used a fishing boat, but this has gone beyond what I can expect."
She has called on UKIP leader Nigel Farage to issue a public apology and for the newspaper to be withdrawn from circulation."
She said: "If they get away this, what am I going to see in the next publication?
"Neil and I have a lot of family living in Cornwall and I don't want this newspaper to be on their doorstep and causing them distress.
"It is completely insensitive, I was really shocked when I saw it."
Bradley Monk, UKIP's parliamentary candidate in South East Cornwall, said: "It definitely wasn't our intention to cause any offence and we are sorry if we have caused offence.
"The issue we wanted to highlight was the plight of fishing communities in Cornwall and Devon."
No-one from UKIP was available to comment on whether Mr Farage would apologise.