Carlyon Bay developers could ask for £15m council loan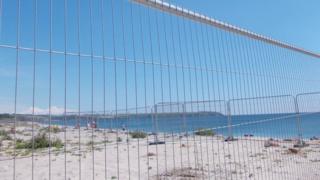 A company behind a £250m redevelopment project could ask Cornwall Council for a £15m loan.
Commercial Estates Group (CEG) was granted permission in 2011 to redevelop in Carlyon Bay.
A briefing document by councillor Tom French seen by BBC Cornwall suggested the authority could borrow £15m at low corporation rates and then lend that to CEG at a commercial rate.
Mr French and CEG said no application had been made yet.
'Enormous savings'
The site, near St Austell, was previously home to the Cornwall Coliseum complex, which hosted acts such as Cliff Richard, Status Quo and The Who.
The redevelopment plans include housing and leisure facilities.
However, critics said the loan proposal was "absolutely outrageous".
Peter Price, from pressure group Carlyon Baywatch, said: "On the one hand we have Cornwall Council declaring they have to make enormous savings over the next five years.
"Then there is a proposal now that they borrow £15m from central sources and give it to a property developer on the promise they may get a return.
"Local taxpayers shouldn't be seen as a lender of last resort."
'Major benefits'
Mr French said it was not taxpayers' money but "money we can borrow elsewhere and put in a separate bank account, a separate system".
He added: "If a developer receives some kind of backing and, in this case, maybe a loan, it gives other lenders and investors confidence the local authority believes this is worth backing."
CEG development director John Kenny said the company was planning a "major development which will have major benefits", including providing more than 400 construction jobs and 500 jobs after completion.
Confirming no application had been made yet, he added he had to "consider all opportunities to see what I can source on the best terms".