Cornwall Councillor Alex Folkes rejects child risk claim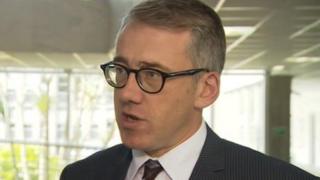 A councillor named as a "risk" to children has denied the claims, saying he is a victim of bullying.
Cornwall Council maintains that, based on police information, Liberal Democrat Alex Folkes "represented a serious and enduring risk to children".
It has urged schools in Alex Folkes' Launceston ward not to allow the councillor near children.
Mr Folkes said on his blog the claims were untrue and he was "determined to prove it".
He said the council had been alerted to a 2006 Metropolitan Police probe launched after his credit card was linked to a child pornography website.
His card had been cloned, he had been cleared by police and had "never viewed any such images", he said.
Mr Folkes said that he was one of many people arrested after their credit or debit cards were linked to a site containing indecent images of children.
'Vigilante action'
He said he was able to show the police his card had been cloned and used illegally in the past for items including a hotel stay in Brazil, which he reported to his bank, and the investigation was dropped.
He said council officers "seem to think they know better than the police did back in 2006 when they had all the evidence and were able to conduct a full and thorough investigation".
And he said that as a result of the council's statements he was "in danger of some sort of vigilante action".
Cornwall Council said in a statement that it had launched an investigation after receiving information from an unnamed source about Mr Folkes.
After requesting information from police, a council officer "concluded that Councillor Folkes represented a serious and enduring risk to children".
It went on: "This decision was later confirmed by additional information supplied by the police.
"We are confident that the investigation, which was aided by the police, has been dealt with appropriately and all proportional steps have been taken to ensure children in Cornwall are protected to the maximum possible degree."
---
---
Chief executive Andrew Kerr has asked Mr Folkes to resign from his position as a councillor for Launceston.
An email from Trevor Doughty, the council's director of education, health and social care, urged schools, children's settings and sports clubs in Mr Folkes' ward not to allow the councillor near children.
Mr Folkes stood down from his cabinet position as head of finance and resources on 4 November, citing "personal issues".
Mr Folkes now says these "issues" were about his arrest over the child porn investigation, which was revealed in a CRB (Criminal Records Bureau) check.
'Properly dealt with'
Someone had raised the issue with officers from the council's child protection team in the last few weeks, he said.
Since then, anonymous letters and emails had been sent to the press and to opposition councillors.
---
ANALYSIS: TAMSIN MELVILLE, BBC SW POLITICAL REPORTER
Several questions remain in the ongoing story about Cornwall councillor Alex Folkes.
Cornwall Council says it was contacted on 16 October with "information raising serious child protection concerns" relating to Mr Folkes. But who was it that contacted them?
The council considered after consulting the Metropolitan Police that Mr Folkes "represented a serious and enduring risk to children". What did the Metropolitan Police tell Cornwall Council that made the authority come to this conclusion?
A council officer issued a warning to local schools not to allow Mr Folkes on their property as a "potential risk" to children. Mr Folkes says he was not consulted before they sent the warning out. If that was the case, why was he not consulted?
The details of Mr Folkes' arrest by Metropolitan Police in 2006 were included in a CRB check in 2009 when he became a councillor. But why did the council not warn local schools then about allowing Mr Folkes on their premises?
---
He wrote: "In 2009 when I was elected to Cornwall Council my arrest was flagged up in an enhanced CRB check.
"I discussed this matter with the chief legal officer of the council. He told me that he would discuss it with the (then) leader Councillor Alec Robertson.
"I heard no more about this from the legal officer, Mr Robertson or anyone else. I assume that they took the view, quite rightly, that the matter was properly dealt with by the police and considered closed."
Mr Folkes said Mr Kerr had not allowed him to correct the information held about him.
He said the matter had "sadly" become public, solely because of the actions of the chief executive "who has bullied and harassed me and others throughout the process."
He added: "I know the allegations are untrue and I am determined to prove it."
He said he had invited the Liberal Democrats to investigate under its own disciplinary processes, and had meanwhile voluntarily suspended his membership and the party whip.
Richard Williams, head of governance and information, said in an email seen by the BBC that the council had received formal complaints against the chief executive and the director of education, health and social care.
The council's Conservative and Labour groups on the Liberal Democrat-Independent-controlled authority have demanded an inquiry into what happened.
Mr Kerr was unavailable for immediate comment.
A spokeswoman for Devon and Cornwall Police said: "This matter is subject to an internal investigation by the council, not police."
Mr Folkes was first elected in 2009 and has built a high public profile.
In 2012 he admitted previously facing a court order for not paying his own council tax on time.