Cornwall cat survives broken legs and shotgun blasts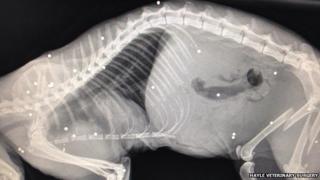 A cat suffered two broken legs and had been blasted at least twice with a shotgun, a veterinary practice in Cornwall says.
The six-year-old black tomcat, called Target by surgery staff, was brought to Hayle Veterinary Surgery in March after being found injured and unable to walk.
He had two fractured femurs and X-rays showed more than 40 pellets in the head and face and across the body.
He has been found a new home after undergoing treatment and convalescence.
Staff said the cat was "still purring and craving attention" when originally brought to the surgery in March "despite the horrendous injuries" caused by metal pellets.
Practice partner Steve Wyatt said: "When he arrived, we could only see he had two broken back legs and what we thought were other superficial injuries under his fur. Further examination revealed the pellets."
Mr Wyatt said Target must have been at the edge of the weapon's effective range when shot because the pellets did not penetrate enough to damage vital organs.
He said: "We don't know what the circumstances, but clearly something horrible happened and on one than more occasion.
"There were at least two shots because they were injuries on both sides."
Of 43 or 44 pellets found, Mr Wyatt said he was "only able to remove eight or nine".
He said: "We did try our best to get them out, but getting them all surgically would be such a long task. But he's a happy cat now.
"He was the kind of cat you saw wanted to get better and he was a cat that needed be saved."
No owner could be found so he went to live temporarily with Mr Wyatt and his family for recovery and rehabilitation.
The practice said it had now found him a suitable home.