Cornwall based helicopter sent to Sierra Leone in Ebola fight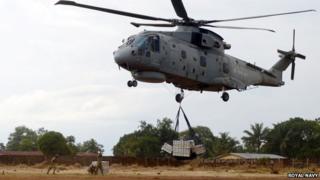 Royal Navy helicopters from Culdrose in Cornwall have been sent to help fight Ebola in Sierra Leone.
The Merlin helicopter will airlift supplies to a community care centre that is not accessible by road.
The 28-bed facility is in a mountainous area in Kumala for the care of Ebola patients including young children under five years old.
Lt Roger Angliss said it was the first time they had been asked to complete a mission of this type.
Sierra Leone is one of the countries worst affected by this year's Ebola outbreak, with more than 1,200 deaths.