Bluefin tuna dissected in front of Penryn audience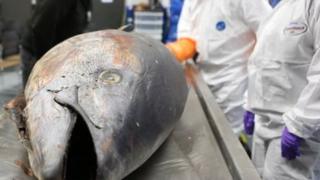 Scientists have carried out the dissection of a bluefin tuna worth £26,000 in front of an audience.
The 2.4m (7ft 10in) fish was discovered by five friends after it washed up on Kingsand beach in Cornwall in July.
University of Exeter experts dissected the 140kg (22 stone) tuna on the slab at the Tremough campus near Penryn, Cornwall.
Dr Lucy Hawkes said the washing up of the fish provided a rare opportunity to carry out the post-mortem examination.
Dr Hawkes said: "This was a big animal. We don't usually get to see fish of that kind of size in British waters, so we've all been quite excited by seeing it."
Atlantic bluefin tuna travel thousands of miles a year at speeds of up to 62mph (100kmph).
Dr Hawkes described the fish as "the Ferrari of the ocean".
She said: "It turns out bluefin tuna have these incredible retractable fins.
"When they travel really quickly they need to be able to pop their fins down so they can get maximum drag.
"These huge dorsal fins on their back fold away completely into these amazing slots - I could not stop playing with it."
Dr Matthew Witt said it was not possible to establish the cause of death.
He said the best quality tuna would command a price of £185 per kg making the fish worth approximately £25,900.
Parts of the tuna will now be sent to California for tests to establish whether it came from the Mediterranean or the Gulf of Mexico.
Friends Sarah Little, Laura Pickervance, Hannah Ford, Shauna Creamer, and Charlotte Chambers found the tuna which was taken away by officers from the Marine Management Organisation.