Cornwall hospitals in 'extraordinarily challenging' financial position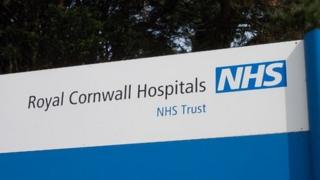 The Royal Cornwall Hospitals Trust (RCHT) has an "extraordinarily challenging" financial position to deal with, its board meeting has been told.
Director of finance Karl Simkins said the trust was at a very high risk of not achieving a plan of being out of debt by the end of the financial year.
The RCHT is currently £3.4m in the red.
Mr Simkins put it down to failures to make savings and higher-than-planned costs of care. Agency staff spending had also increased, he said.
'Abysmally failing'
Joe McKenna, chairman of campaign group Health Initiative Cornwall, told the board he believed health services were suffering.
He asked the meeting: "When will the RCHT board formally proclaim that our acute trust in Cornwall is abysmally failing to meet current demand, which is down to the fact that Cornwall and the Isles of Scilly is now dangerously underfunded?"
Mr McKenna admitted the Royal Cornwall Hospital in Treliske was suffering, which he said was because of government funding rules, but added that other parts of the health service were funded well.
Bed-blocking and stroke care were also debated.
'Rising demand'
The board heard only 25% of stroke patients were admitted to the stroke unit in Treliske within four hours in October. The national average was 58%.
Acting chief executive Andrew MacCallum said there were up to 70 patients who could have been at home or in care homes last Friday but there was nowhere to send them.
The RCHT said it was "facing similar financial pressures to those being experienced across the NHS amid rising demand for services".
It said: "Whilst we continue to work on meeting our savings plans for the year, our top priority remains the care and safety of our patients."
The trust operates three acute hospitals in the county and employs about 4,700 staff and has a budget of £300m.