New Cornwall air ambulance enters service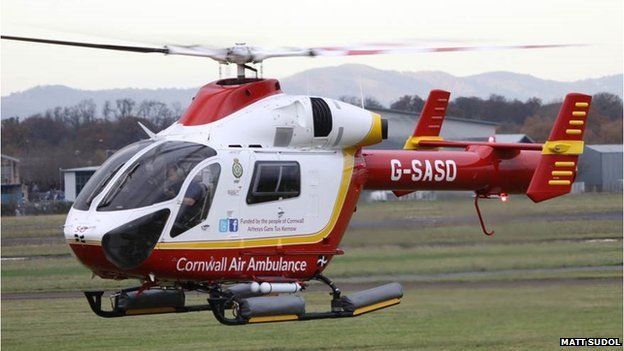 Cornwall's air ambulance service has taken delivery of a new helicopter equipped with night vision capability.
The new technology should allow 50 extra missions every year, according to the charity which runs the service.
Cornwall's air ambulance is called out around 800 times a year to treat or airlift medical emergencies.
The current Eurocopter EC135 has been retired after 13 years in service and is being replaced by two MD902 helicopters.
An MD902 equipped for air ambulance service costs around £3 million.
Paula Martin, chief executive of Cornwall Air Ambulance, said the new aircraft will allow the service to operate for 12 hours a day.
"At the moment we are on-call 12 hours per day throughout the summer, but as few as eight hours per day in the winter due to the lack of daylight," she said.
"We estimate this could enable us to fly up to an extra 50 missions a year.
"That may not sound much but for some of those patients, that will be the mission that counts."
Of the two new helicopters, one will be operational every day and the other will be a backup.
Ms Martin said: "Having a dedicated back-up... means we can minimise downtime for routine or unexpected maintenance, which prevented us attending 13 missions in 2013."
Related Internet Links
The BBC is not responsible for the content of external sites.