Baby wallaby found in pouch after Isles of Scilly crash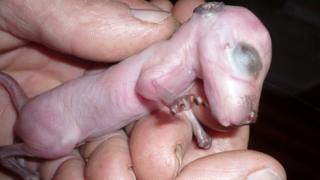 A vet is fighting to save the life of a baby wallaby found in the pouch of its mother who was killed on a road on the Isles of Scilly.
The mother wallaby had escaped from a private zoo in St Mary's and had been on the run for a month.
Island vet Heike Dorn is battling to keep the baby alive using an artificial pouch made from an old oven glove.
The baby cannot be fed with milk containing lactose so she is being hand-fed with soya milk.
The mother was found in the Porthmellon Industrial Estate area on Monday and local police believe she was hit by a car. The island reportedly has fewer than 10 miles of road.
'Little drops'
Islanders had reported a number of sightings of the missing wallaby over the past four weeks.
The wallaby's owner, Steve Griffin, said the oven glove was the only object available to keep the baby at the desired temperature of 30C.
Mr Griffin said the baby should be fed every six hours.
"But because it's so tiny I'm doing it more regularly than that just to get little drops in it," he said.
Paignton Zoo in Devon is now hoping to help care for the creature.
Paignton Zoo spokesman Phil Knowling said: "Wallaby baby milk formula is commonly available in Australia but it's not so easy to come by in Europe.
"Our in-house vet team will try to find out if another UK collection has experience of producing a home-made mix for a baby wallaby.
"There might be someone out there in the zoo community that can help."