Sennen Cove lifeboatman Philip Shannon retires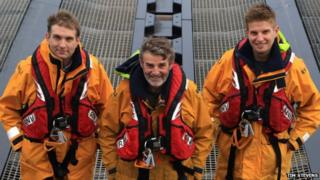 One of Britain's longest-serving lifeboatmen has retired after being a volunteer crew member in Cornwall for nearly 50 years.
Philip Shannon joined in 1967, aged 17. He sailed on five different classes of lifeboat before having to stand down at 65 because of RNLI rules.
He was awarded an MBE in 2010 for his services to the Sennen Cove crew.
Mr Shannon became second coxswain of the Sennen crew in 1999.
He took part in hundreds of launches and the lives of 150 people were saved during the missions he sailed, the RNLI said.
His departure was marked by a party over the weekend which was attended by former crew and friends of Sennen Cove RNLI. He was presented with a long-service certificate.
Mr Shannon said: "It's all come and gone so quick.
"I've met so many good people and fellow lifeboat crew around the coast, and got a good lot of memories. I've enjoyed every minute of it."
However, he said the undoubted low point of his time was during the Penlee lifeboat disaster on 19 December 1981.
The Penlee vessel, the Solomon Browne, was lost with all eight hands in an effort to save the crew of the cargo vessel Union Star in hurricane-force winds. Eight people on board the Union Star also died.
Mr Shannon was on a relief lifeboat which struggled to get round Land's End in "impossible conditions" to assist and was forced to return to port.
He said: "I knew several of the [Penlee] crew quite well. It was such a blow at Christmas time."
Mr Shannon's elder son, Dan, who joined the crew in 1993, has taken over as second coxswain following his father's stepping down.
His younger son, Jack, a crew member since 2003, sails on shouts any time he is back home.
Mr Shannon said: "I've reached the end of the line, regrettably. I wish I could do it all again.
"I'll always be watching out, wondering what's happening."
He said Sennen's current lifeboat, a Tamar class vessel, was the "Rolls Royce, the Formula One" of lifeboats and a far cry from what he sailed on when he was a teenager.
He said: "Back then, it was virtually an open lifeboat. You had a compass, a radio and that was it.
"You just got on and did it because you didn't know any different."
RNLI regional operations manager Tom Mansell said Mr Shannon was the "personification of the RNLI spirit: selfless, dependable, trustworthy and courageous".
He said: "So many of our volunteer crew and members of the public have benefitted from Philip's experience, be that through training he has passed on to our crews or by his actions at sea to rescue people in trouble."