UK forces fly in food to islands cut off by Ebola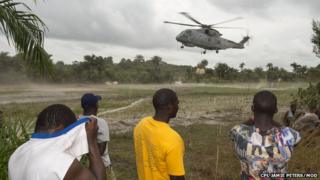 UK Armed Forces have flown in 220 tonnes of food to islands off Sierra Leone cut off by Ebola.
Royal Navy helicopters and Royal Marines craft delivered the supplies from the Cornwall-based RFA Argus on behalf of the United Nations.
The food was flown in to a chain of islands 60 miles (96km) south of the Sierra Leone capital, Freetown.
The Royal Navy said the three-day mission would supply 16,000 people with food for a month.
Military personnel carried sacks ashore to coastal communities in the Turtle Islands and neighbouring Sherbro Island, while the helicopters delivered more than 150 tonnes of food inland.
Leading Airman Dave Jackson of 820 Naval Air Squadron, based at RNAS Culdrose in west Cornwall, said: "It was a fantastic experience to be able to work side by side with the people who will benefit from this aid."
More than 2,000 people have died from Ebola in Sierra Leone according to the Centers for Disease Control and Prevention.