Campaign launched to save threatened Shackleton aircraft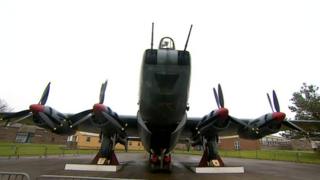 Aviation enthusiasts have launched a campaign to save a Shackleton aircraft threatened with destruction.
The Avro Shackleton MR2C has stood guard at the entrance to RAF St Mawgan near Newquay for more than 25 years.
The Ministry of Defence has invited bids for the WL795 aircraft which is not airworthy.
The Save our Shackleton group said it fears the aircraft could be taken away from Cornwall and scrapped or used for spares.
Gary Perkin from Save our Shackleton said: "The aircraft is in serious risk - she could be scrapped, broken or taken out of the county in bits, never to return."
The Ministry of Defence said it was "inappropriate" to comment further on the future of the Shackleton.
'Character and personality'
The Shackleton, used as a maritime patrol aircraft, is approximately 100ft (30m) across and 80ft (24m) long and has four Rolls Royce V12 engines.
The aircraft at St Mawgan entered service in 1953 and could remain in the air for up to 16 hours.
Campaign group member Rick Hopkins used to fly in the Shackleton, known as Rosalie, when he served with the RAF.
He said: "Generally speaking we were all lovers of this aeroplane because it had such character and personality."
Fewer than 20 Shackletons are left worldwide from 185 originally built, according to the Shackleton Preservation Trust.
Save our Shackleton is trying to raise £50,000 to keep the aircraft.